One of the most significant accomplishments of the crypto space is the Decentralized Finance (DeFi) industry. With the help of smart contracts, developers have created a whole new world which brought web3 and Metaverse to the mainstream audience. 
But while we see the face of DeFi, one forgets that there is always someone operating the entire thing behind the scenes. 
One of them is Ankr.
Ankr brings DeFi to the world
Decentralized Applications (Dapps), NFTs, virtual worlds, and so much more that arrived in the web3 ecosystem had huge help from Ankr.
As a Web3 infrastructure company, Ankr provided developers with multi-chain tools and access to blockchain nodes to build new projects on Web3 and contribute to the highly anticipated Metaverse.
By removing the complexity and costs of building infrastructure while also improving applications through "necessary" developer tools, Ankr has made it easy for developers at a time when DeFi is still young.
Today more than 50 blockchains trust Ankr as their infrastructure partner, servicing over 2 Trillion API relay requests a year. In fact, at the moment, it's processing over 8 billion relay requests a day. Being a leader in the RPC services space (RPC node infrastructure), Ankr is running 15 RPC clients right now. 
The overall steps it took throughout 2021 enabled Ankr to grow by over 2,000%, and building on that growth, Ankr aims to move its industry-leading infrastructure services to be a fully decentralized protocol by the third quarter of 2022.
What makes Ankr stand apart from its competition is the fact that none of its smart contracts have ever been hacked, giving it the edge needed to be a leader in this space.
Having launched 25,000+ nodes on 50+ blockchains, Ankr currently processes over $1 billion in crypto transactions every month, serving more than 10 million unique users in a while. The company was also responsible for re-writing the Binance Smart Chain for their BNB Chain 2.0 Upgrade, including the Errigan upgrade, Archive Node upgrade, and BAS (sidechain scalability).
However, going forward, Ankr will also be focusing on the introduction and rollout of its decentralized staking protocol – Stkr. The protocol also has essential use of the native token Ankr, which is currently used as a payment method on the platform.
Ankr in the DeFi space
Trading at $0.03, Ankr recently fell victim to the crypto crash, which wiped out over $530 billion in the span of a week. Stemming from the DeFi space, the crash of LUNA and UST played a huge role in triggering the broader market crash.
Within a week, the total value locked in DeFi chains fell from $205.17 billion to just around $132 billion. 
Terra, which was once the biggest DeFi chain in the world behind Ethereum, sank to the sixth place as its TVL depleted from $30 billion to $414 million as investors pulled out their investment from the chain as soon as LUNA fell by 99% on the charts.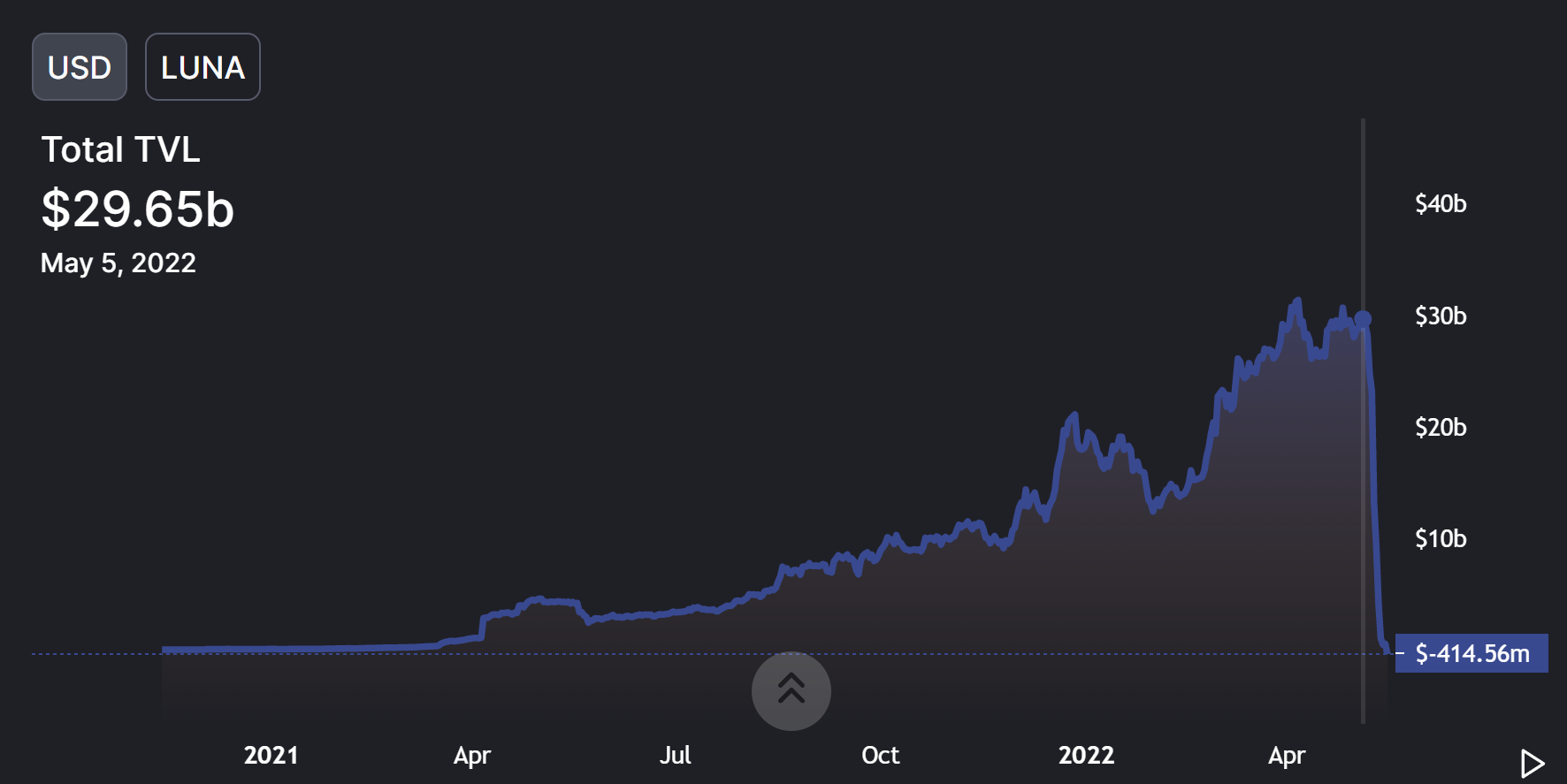 Thus, it may take a lot more than just faith for Terra to rebuild itself, and Ankr could play a huge role in bringing more ingenious DeFi solutions to the blockchain.
Disclaimer: This article is provided for informational purposes only. It is not offered or intended to be used as legal, tax, investment, financial, or other advice.

Credit: Source link