Beleaguered crypto lending platform Celsius has seen fit to hire new restructuring lawyers. It is hiring Kirkland & Ellis LLP, the same firm that is currently aiding Voyager Digital with its own restructuring. With at least one other party seeking to provide a financial recovery plan for Celsius, what is going on inside the company now?
The Wall Street Journal published an article yesterday stating that Celsius had brought on new lawyers to replace those from Akin Gump Strauss Hauer & Feld LLP, who were hired last month after Celsius announced that it was ceasing its operations.
According to the article, lawyers from Kirkland & Ellis LLP were brought in to replace the current restructuring council, and to advise on options, one of which includes filing for bankruptcy.
Having not filed for bankruptcy thus far, there is much speculation as to the state of solvency of the platform, to say nothing of who is actually in charge behind the scenes.
The difference between Celsius and the likes of Voyager is that Voyager has filed for chapter 11 bankruptcy, and its entire position is now transparent for all to see. Moving ahead with a restructuring plan can now be done given that there are no hidden dealings that might put a wrench into the works.
On the other hand, the Celsius position is still very opaque. There is rampant speculation on how big the hole in the finances might be, and it is still very uncertain as to who actually holds the reins of the company, as board members appear to be coming and going.
Simon Dixon, CEO of Bank to the Future, was initially sympathetic to the plight of Alex Mashinsky, CEO of Celsius, but having studied the situation he is now saying that he feels betrayed, and is using his Twitter account to voice his feelings.
Dixon has stated in various interviews that he has cut short the grieving for his recently departed father in order to protect his interests as a shareholder, but also to try and help the many investors who have messaged him with what he said were truly anguished comments.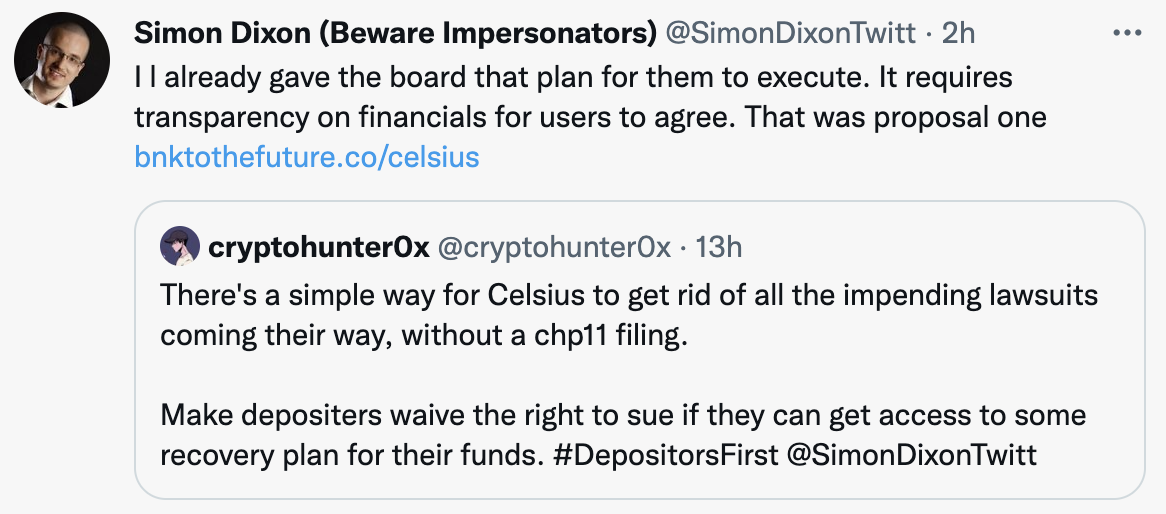 The most recent tweet on Dixon's Twitter account gave the outline of a plan for helping investors recover their deposits. However, the whole case depends on Celsius finally coming clean on the whole picture, however bad that might look.
Disclaimer: This article is provided for informational purposes only. It is not offered or intended to be used as legal, tax, investment, financial, or other advice.

Credit: Source link