Mandala Exchange announced they're all set to list Safemoon on their platform and the development has thrilled the community. The trading firm sent a tweet yesterday confirming they're getting the DeFi token onboard. However, in just 24-hours, the tweet breached a million impressions mark and also started trending on Twitter.
"The moment you've all been waiting for. #TheMoonHasArrived #MandalarianArmy #SAFEMOONARMY Together we are stronger. #SAFEMOON #MandalaEffect," the tweet read. Also, the platform will directly list Safemoon V2 and users cannot migrate their previous V1 tokens on the exchange.
The marketing manager of Mandala Exchange, Donnie Mehrtens was the first to reveal that the tweet crossed 1 million impressions. In a series of tweets, the manager explained how SFM listing reached far and wide and tweeted, "We did it!".
However, Mandala has not opened trading Safemoon yet for its users and will announce a tentative date soon.
"A tremendous & exciting step for #SAFEMOON as we board the @MandalaEx. A truly kind & friendly team that welcome the #SAFEMOONARMY and all that we stand for. Deposit/trading times & other special surprises will be shared in near future. Keep an eye on both twitter accounts!" tweeted the official handle of Safemoon.
Safemoon Had A Good Start in 2022
The Safemoon community seems to have come together as one this year and is a collective force on social media. The community voted en masse`winning several Twitter polls and came on top by defeating Dogecoin, Shiba Inu among others.
SFM won MMA fighter Chuck Lidell's Twitter poll and also won Matt Wallace's poll twice in a row. The DeFi token also won a poll conducted by CoinMarketCap and experienced a string of victories through its community.
Safemoon also entered the top 100 cryptos list on CoinGecko and is now placed at the 97th spot. It reached the milestone in less than a year since its inception after its launch in March 2020. It made its way to the top in a short span of time and is now a well-known name in the crypto market.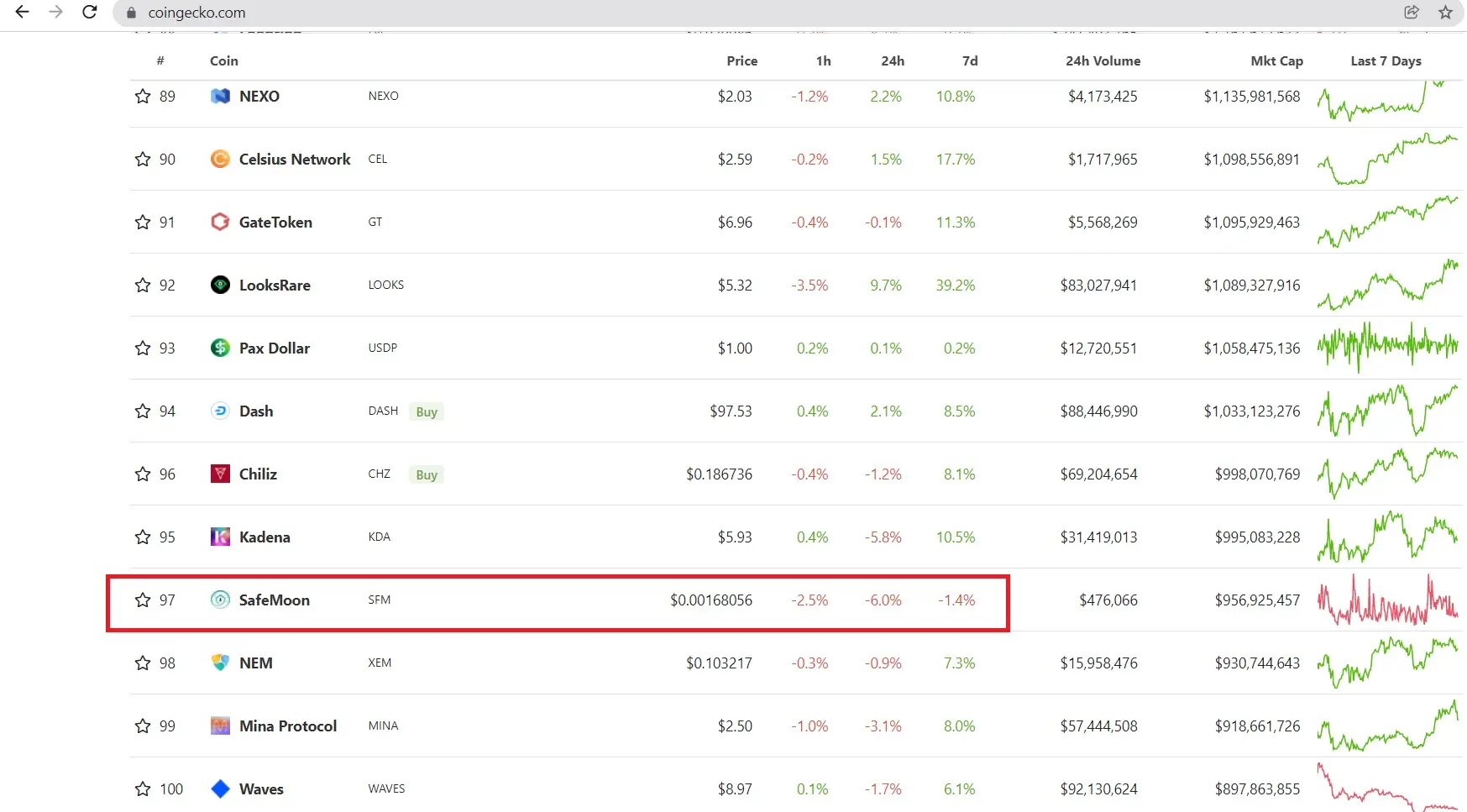 Also, Crypto Bubbles has now onboarded Safemoon for viewing and users check its weekly performances along with its standing as per the market capitalization. The website also boasts of a configuration window that opens up when a user edits or adds a particular chart.
At press time, Safemoon V2 (SFM) was trading at $0.00168049 and is down -6% in the 24-hours day trade. The DeFi token is down -41.6% in the last 30-trading days and is also down -28.6% in the last 14-days.

Credit: Source link