Terra announced that its validators had halted the network at block 7,607,789 as they make up a plan to reconstitute it, the second time it had been halted in 12 hours.
Binance has delisted the token which has been on a freefall for days, following the lead set by Bybit, Huobi, eToro and a bevy of Indian exchanges.
---
Terra's LUNA cryptocurrency has been on a freefall with no sign of when the carnage might stop. The project has tried some measures, such as printing more LUNA to save the token, and the UST stablecoin as well, but this has only seemed to make the matters worse. In a last-ditch effort for redemption, the network's validators have decided to halt the blockchain as they work on a plan to save it.
Terra developers took to Twitter to announce the drastic move.
The Terra blockchain has officially halted at block 7607789.

Terra Validators have halted the network to come up with a plan to reconstitute it.

More updates to come.

— Terra (UST) 🌍 Powered by LUNA 🌕 (@terra_money) May 13, 2022
This was the second time that the network had been halted in half a day. Just hours earlier, the developers had decided to halt the network "to prevent governance attacks following severe LUNA inflation and a significantly reduced cost of attack."
LUNA has dropped to $0.00003328, a 99.98 dip in the past day and down from $85 in the past week. As such, a malicious actor can easily purchase enough LUNA to take over the network and manipulate it as they wish.
After about three hours, Terra was back online, with the developers saying that validators had applied a patch to disable further delegations.
The Terra blockchain has resumed block production.

Delegations are disabled now that the chain is live with the new code merge.

Validators, please check the Discord announcements for the latest patch notes. https://t.co/CGQgfMDWQe

— Terra (UST) 🌍 Powered by LUNA 🌕 (@terra_money) May 12, 2022
Terra fans are still clinging to hope that Do Kwon, the founder, and his team have something up their sleeves to save the embattled project. But as CNF reported yesterday, Kwon himself was behind another stablecoin project known as Basis Cash that crashed as well.
Read More: Terra LUNA's Do Kwon was behind Basis Cash, a 2018 stablecoin that also crashed, ex-colleagues say
On the Terra Discord channel, where users have now been limited to one post every hour to reduce the number of complaints, one user posted:
Whatever they do, they need to bring in the A team, people from the big leagues that know what the f*ck to do in a crisis. We need Sean Connery from The Rock level nerves and determination rn. Anything is possible in the space with the right people, good ideas and capital. Make it happen Terra. See ya in an hour.
Binance, eToro, Huobi delist LUNA – final nail to the coffin?
When it rains, it pours, and for LUNA, this saying is ringing very true. As its price collapses, exchanges are cutting ties.
Binance announced today that it had delisted several LUNA trading pairs, closed open positions, conducted an automatic settlement, and canceled all pending orders. The exchange, which is the largest globally, also pledged to cease trading of several UST pairs.
Binance will suspend spot trading for the following trading pairs at 8:30am UTC, May 13 2022:

🔸 LUNA/BUSD
🔸 UST/BUSDhttps://t.co/U8u7bNWuZT

— Binance (@binance) May 13, 2022
Binance was not alone in its delisting of LUNA.
"Huobi Global plans to deliver and delist LUNA COIN-margined swaps at 14:00 (UTC) on May 11, 2022," read a May 11 announcement from yet another major crypto exchange.
One of the world's largest derivatives exchanges Bybit took similar measures.
‼️ Delisting of LUNA/BTC Spot Pair

📣 Trading of LUNA/BTC Spot pair will no longer be supported after 3PM UTC on May 12, 2022, and all orders will be automatically removed. Take note of the timeline and manage your orders accordingly.

👉🏻 Read more: https://t.co/9Audi6D26k pic.twitter.com/x5sUWSjNRw

— BYBIT 🦍 (@Bybit_Official) May 12, 2022
eToro has also delisted LUNA on its platform. In India, the two largest exchanges WazirX and CoinDCX have made the move as well.
"Terra machine goes brrrr"
Back in 2020, a popular meme took over the crypto Internet. It depicted a young man shouting at an older Federal Reserve executive who was printing dollars, with the young man decrying the evils of such reckless money printing. The meme was infamously called 'Money Printer Go Brrrr.'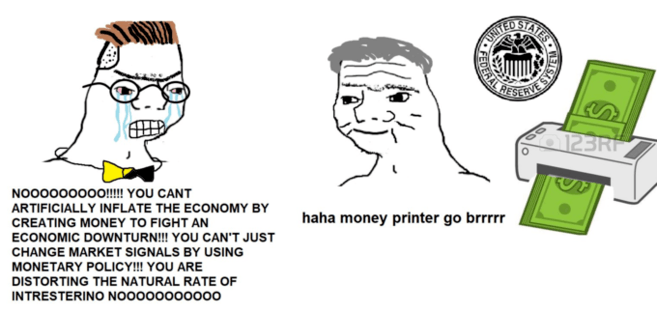 (Image courtesy of Binance Academy).
The meme surfaced at a time when the US Fed had indicated that it would inject $1.5 trillion in extra liquidity into the economy to ease the economic downturn that COVID-19 had brought on.
This meme also had its roots in the de facto tenet of the crypto industry which is that a central entity shouldn't be able to print money at will to fit its goals or because of economic pressure. After all, Satoshi launched Bitcoin at a time when the US government had been implicated as one of the biggest enablers of the worst financial crisis in 30 years – the 2008 housing crisis.
However, it would appear that Terra doesn't adhere to such beliefs. Recently, Do Kwon revealed that the project would accept a community proposal that allowed Terra to mint much more LUNA to ease the pressure on UST stablecoin.
While the saving UST part of the process failed, the printing LUNA part of it went ahead as planned. Since May 10, Terra has raised the total supply of LUNA by close to 10,000 percent, up from just 775 million to a staggering $6.9 trillion according to Terrascope.
This has been despite some LUNA faithful expressing their opposition to the printing which they say devalues the tokens they already hold or which they have staked. But with LUNA now practically headed to zero, all this might not matter in a day or two.
As $LUNA holders we cannot allow the current proposal to minting hyper- inflationary $LUNA to dry up the UST supply. It would take loyal $LUNA holders that are staked and dilute them to nothing. There are many other, better options!

— Ran NeuNer (@cryptomanran) May 11, 2022

Credit: Source link