The controversial CoinMarketCap quiz which named "XRP as the "impostor coin" had its naysayers and applauders. According to CoinMarketCap, this is because XRP is "controlled and governed by authorities, hence defeating the purpose of #cryptocurrency. All the other coins in this
are decentralized and are basically "people's crypto". Some say this description is accurate.
CoinMarketCap's tweet that Ripple's XRP was not a true cryptocurrency but an impostor did not go down well with many observers, particularly the Ripple community. CMC had to eventually delete the controversial tweet. But the tweet had been up long enough for responses from members of the XRP community.
XRP price may have been negatively impacted by the CMC quiz and follow-up comment. From $0.63 early Saturday, XRP price went down to $0.59, dropping from a market capitalization of $30.1billion to $28.1billion, thus shedding off up to $200 million.
Ripple is already grappling with its unending suit with the SEC and putting XRP in the spotlight as an "impostor" does not help their situation especially when the market is jittery with falling prices and restrictions by exchanges. While the contentious post has since been removed, it was enough to have the crypto Twitter community discussing each of the game's assets.
Today's XRP price is $0.309724 with a 24-hour trading volume of $909,112,869. XRP is down 4.98% in the last 24 hours. The current CoinMarketCap ranking is #7, with a live market cap of $14,972,995,413. It has a circulating supply of 48,343,101,197 XRP coins and a max. supply of 100,000,000,000 XRP coins.
As with a good man, you cannot keep putting a good coin down. That's saying a downturn exposes those who had been taking on excessive risk when times were good. 
It's only when the tide goes out that you know who's been swimming naked.

Warren Buffett
Speculations…
Could it be because Elon Musk has now joined Ripple and charged straight into the United States Securities and Exchange Commission (SEC)? Elon Musk believes SEC is attempting to regulate cryptocurrencies and that it has crossed its jurisdiction and needs to be stopped.
A notable development as a turnkey solution for financial institutions, Ripple Liquidity Hub will leverage smart order routing to source digital assets at optimized prices from market makers, exchanges, and OTC desks.  As a crypto liquidity platform built for the enterprise, it will unleash the potential to access deep liquidity within markets, accelerating the shift to crypto.
Ripple Liquidity Hub will initially support BTC, ETH, LTC, ETC, BCH, and XRP (availability will vary by geography) with plans to add additional digital assets over time. In the future, Ripple plans to add functionality such as staking and yield-generating functionalities.
What's XRP?
In the world of cryptocurrencies, XRP is quite different. It is decentralized, but not as much as Bitcoin, Ethereum, and the like. Unlike them, it doesn't seek to be an alternative to the traditional banking system but rather to collaborate and improve the conventional banking system. Nonetheless, it is a cryptocurrency that could outlast others due to its many distinctive features and landmark developments.
The top cryptocurrency exchanges for trading in XRP stock are currently Binance, Mandala Exchange, OKEx, CoinTiger, and FTX. 
The XRP price has been consolidating in a sideways channel since the crypto market crash in May 2021. The price has been consolidating between $0.56 and $1.39.  The trend is currently neutral; however, it might retest the 0.618 Fibonacci level around $0.89 before moving to the upside. The Stochastic RSI for the daily time frame is also at the bottom (18), thus there is a huge potential to the upside as far as there is no negative news in the crypto space.
Also, there is a flat volume. This indicates that the supply from sellers and the demand from buyers are in equilibrium.
SEC vs Ripple: XRP Price Prediction after Lawsuit
The lawsuit against Ripple has been the major hindrance to the price surge during this bull market. Even though the Securities and Exchange Commission (SEC) does not consider Ethereum and Bitcoin which have similar characteristics as XRP to be securities, the SEC has continued to be harsh towards  Ripple Labs, Inc.
The XRP price fell by 70% immediately after the suit was filed, and has never been able to break its previous all-time high of $3. XRP holders have been affected as major crypto exchanges like Coinbase and Crypto.com suspended trading so they couldn't cash out. JP Morgan's North America Equity Research also published a report earlier this month stating that the XRP asset is poised for significant adoption.
Ripple partners with the Republic of Palau
Despite the issues, XRP is dealing with in the U.S. It has accomplished several strategic partnerships. XRP has partnered with the Republic of Palau to develop its national digital currency. The national stablecoin would be utilizing the XRP ledger due to its carbon-neutral and energy-efficient characteristics stated by Ripple in its announcement.
Just like El Salvador, the Republic of Palau does not have its fiat currency and depends highly on the U.S dollar. The aim of the partnership is for ripple to develop a strategic cross-border payment system by banking the unbanked citizens of Palau.
SEC vs Ripple Case will 'likely' end in 2022, says Ripple CEO
The CEO stated during his interview on CNBC that the lawsuit with the Securities and Exchange Commission (SEC) is nearing its end. Brad Garlinghouse believes that the judges have realized that the case has broader implications than XRP and they are beginning to ask good questions. XRP holders also filed "friends of the court" briefs to allow them to join the case as defendants to support Ripple. However, the judge ruled that individual XRP holders cannot act as defendants in the ongoing lawsuit.
XRP Distinctive Features
Ripple has been in existence for a while. It was created back in 2004 as RipplePay, but the case of its innovation came too early for its time, as it made no significant mark then. However, it returned in 2012 as Ripple and soon after launched the XRP token.
Ripple XRP is unlike any other cryptocurrency. XRP is a product of Ripple Labs and it differs on many levels, and this includes:
Ripple is not blockchain-based
Unlike most of the cryptocurrencies in existence, the coin does not operate on blockchain technology. Instead, it is based on the Ripple Protocol Technology, which means it has no use for a distributed ledger database. This uses gateways linked to servers of the company in multiple countries of the world to verify and process transactions.
XRP cannot be mined
While the mining process is considered an integral part of all tokens, it is not the same for XRP. The limit for XRP coins is set at 100 billion coins created by the company. Over 35% of that coin has been released into the market. The rest is held by the company that releases it periodically to control the supply and circulation of the token. The cryptocurrency is a deflationary one as the number of coins in the market reduces with each transaction.
Ripple network is centralized
This virtual asset is centralized, and its parent company, Ripple Lab, strives to create partnerships with traditional financial institutions like banks. The company sells its RippleNet technology to these institutions, thereby increasing the popularity of its native token, Ripple XRP. RippleNet technology is a system that connects banks and facilitates cross-border payments and settlements.
Due to the differences between Ripple XRP and other cryptocurrencies, it also has some advantages. Some of them are:
Fast transaction speed
This is one of the most significant selling points of Ripple technology. The swiftness of transactions surpasses other cryptocurrencies and beats that of SWIFT wire transfer, the commonly used system in traditional banking. This makes it a better alternative for banks to facilitate cross-border payments as its XRP transactions are exceedingly fast. The ripple transaction protocol is quite efficient too.
Low cost
Traditional banking system transactions and that of some cryptocurrencies tend to incur hefty transaction fees. But with digital currency, this fee is drastically reduced to a pittance.
Reversibility of transactions
Another positive for it is that the transaction can be reversed or edited to deal with an error if there is one.
All these features have enabled the Ripple network to gain significant partnerships among traditional financial institutions. And it has also influenced the growth in value of Ripple XRP over the years.
Growth in South Pacific
It is a fact that the recent partnership of Ripple with the Japanese payment giant SBI has brought the attention of various technical corporations across the South Pacific region, and it is expected that the entire region will see an expansion and adoption of Ripple tech.
It has been said that the Ripple remittance deal is setting the stage for the much broader adoption of Ripple. The lawsuit on Ripple pertaining to its security doesn't seem to bother Japanese regulators or SBI officials.
XRP Price History
For years after its creation, the coin value was so inconsequential that it was almost worthless. Before 2017, the value of the asset hovered around $0.01, but this soon changed as the token began to gain wider coverage, and it also leveraged on the bull run of the crypto industry in that year. By April 2017, XRP rose to $0.05; the gradual climb soon continued as it reached $0.25 in May.
After this, there was no going back for the asset, as it had snared the attention of crypto enthusiasts who saw the value it created and the potential it had. The value of the asset rose all through 2017 and into the early period of 2018, where it got to an all-time high of $3.84.
But this was soon followed by a massive drop in value that affected every other cryptocurrency, too; many had labeled the incredible run of the industry as just a bubble, and like every bubble, it was going to burst. This was panned out in the case of the 2017 crypto industry bull run.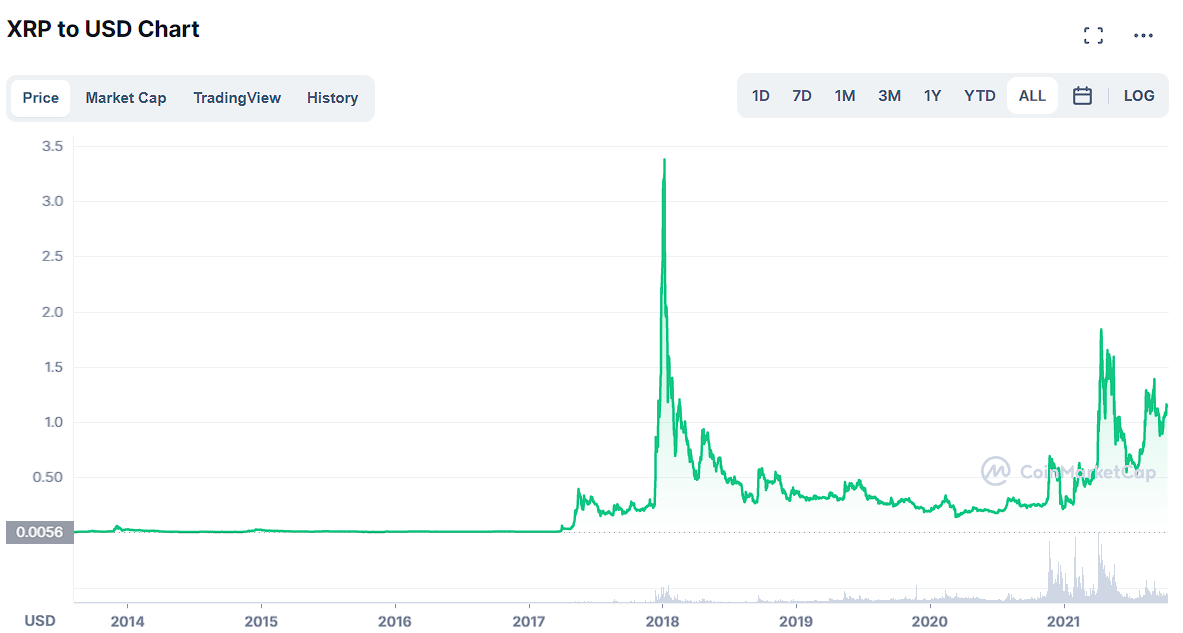 Towards the end of 2019, its price stabilized at around $0.30 and did not cross the $0.5 mark all through the year. This means that Ripple XRP hasn't been able to build on its old glory since then, as its value never got to as high as even a dollar. 
However, the bullish run of 2020 that was ignited towards the end of the year helped the value of the asset to ascend. The value of the token got to as high as $0.8 before finishing the year at $0.66. Early 2021 was supposed to be a continuation of the rise in XRP value, but that could not happen due to the SEC's announcement of a lawsuit.
Upon the announcement, some exchanges delisted XRP from their platform. Many of those holding the token also sold in panic. This led to the value of XRP plummeting to as low as $0.166. However, it has picked up again, going as high as $0.755. Ripple at present is trading between $1.11.
Looking at this overview, it is easy to see the high volatility of XRP in the past few months, which makes it difficult to have a Ripple forecast. But the volatility has not stopped analysts from making XRP predictions based on trends. It only means that these forecasts can change at the slightest notice. However, they still give a rough estimate of what to expect from them.
Ripple Price Action
Given how past developments or even announcements have led to an increase in the value of XRP, the currency might reach $2. This will happen if the actions of Ripple technology lead to a partnership with more financial institutions.
In the past, XRP's popularity and, by extension, its increase in value has been heavily influenced by the partnership with these traditional institutions. More partnership will mean more adoption, which invariably means higher value.
However, it is not so simple for XRP. The SEC lawsuit complicates the whole issue even further. Before the SEC filed the case, the outlook for XRP was positive, even if it did not make many optimistic. But the lawsuit cuts its breakout short and makes a Ripple price prediction trajectory more challenging, unlike other digital currencies.
Considering how difficult it is to predict a digital asset accurately, it is even more difficult for XRP. More traders are acting bearish with the XRP cryptocurrency after the lawsuit, raising fears that it could drop to below 10 cents. However, the price pump by retail investors and traders has allowed it to pick up again.
According to Coinpedia, even with the lawsuit hanging over its head, Ripple XRP will trade at an average of $20 in the next five years.
Thus, the highest projected price for the year is $2, while it could also go as a minimum price prediction is $0.561 if the SEC lawsuit is not settled in favor of Ripple.
XRP Technical Analysis
XRP is down over 60% this year and is yet to find its bottom. The Ripple MACD histogram shows little price action, with the William Alligator trendlines in a sleeping position. Ripple is, however, trading at a significant discount and will be profitable in the next crypto market bull run.
XRP Price Predictions by Authority Sites
Walletinvestor
The site uses machine learning and artificial intelligence (AI) to provide the XRP price forecast. The AI rates XRP's historical data index B+ and comments that it would make an awesome one-year investment. The XRP price will rise by 82.5% to reach $0.573 in July 2023. The site indicates a bullish market price prediction for the coming two weeks, and XRP will rise to $0.321 at the end of the period. The positive trend will continue in 2024 at 161.3% ROI and rise to 239.4% in 2025. The ROI will be 318.6% in 2026 and 396.3% in 2027.
TradingBeasts
This site uses linear and polynomial regressions to predict future values of XRP. The Ripple token will sell at an average of $0.4626814 in August. The price will drop gradually to $0.4480145 at the end of the year. In 2023 XRP will sell at an average price of $0.4421748 in January and $0.4420154 in December. The site provides a bullish XRP price prediction from 2024 to 2025. In 2024, XRP's average trading price will be $0.4590313 in January and $0.5001886 in December. In 2025, XRP's average forecast price will be $0.5114510 in January and $0.6146048 in December.
Digital Coin Price
According to the Digital coin price forecast system, XRP's current price is down over 60% this year and will trade sideways for the second half of 2022. The average XRP forecast price for August is $0.42, reaching the highest in December at $0.47. In 2023, XRP will sell at an average price of $0.46. It will reach a maximum price of $0.51 and a minimum value of $0.41. In 2025, XRP will sell at an average price of $0.59. It will reach a maximum price of $0.67 and a minimum value of $0.54. In 2030, XRP will sell at a mean price of $1.42. It will reach a maximum price of $0.1.47 and a minimum price of $1.38.
Cryptopolitan
Ripple Price Prediction 2022
The XRP tokens price prediction for 2022 is $0.49. The Ripple token has ridden the bear crypto market this year and has lost 60% of its value. Ripple is expected to trade higher soon but will trade sideways for the rest of the year. Ripple digital coins will be bullish in the next run and trade between $0.47 and $0.56.
XRP Price Prediction 2023
The XRP tokens price prediction for 2023 is $0.73. Ripple has honed enterprise-grade solutions for big businesses over the years despite its shaky past. Ripple global network is accessible all over the globe and is robust enough to handle large transactions across enterprises. Ripple value will reach a minimum price value of $0.70 and a maximum of $0.83.
XRP Price Prediction 2024
The XRP tokens price prediction for 2024 is $1.05. Ripple offers cross-border settlements in seconds in a permissionless manner verifiable over its blockchain. This feature provides excellent utility for businesses to reach and accelerate their payments; therefore, a good choice. The current value for the year will reach the highest price at $1.01 and the lowest at $1.22.
XRP Price Prediction 2025
The XRP price prediction for 2025 is $1.53. The Ripple liquidity hub offers businesses and financial institutions the liquidity they require from the cryptocurrency market. The feature has a streamlined enterprise dashboard for trading, managing, and reporting. XRP forecast indicates that the future prices will range from a minimum price value of $1.47 to a maximum price level of $1.76.
XRP Price Prediction 2026
The XRP price prediction for 2026 is $2.28. The ripple platform provides a Central Bank Digital Currency that is fully manageable and accessible to the global economy. The CBDC is built on a decentralized private ledger with a record of over 10M transactions over 10 years. Ripple price will reach a maximum value of $2.20 and a minimum of $2.57 in the crypto market.
XRP Price Prediction 2027
The XRP Ripple price prediction for 2027 is $3.35. XRP partners define its position in the cryptocurrency market, including Bank of America, Cross, Palau, Azimo, Nium, Novatti, Potuol, Trango, Lemonway, Beetech, Sabb, Modulr, Lulu exchange, SC, and Banco Rendimento. The XRP price will range from $3.23 to $3.85. 
XRP Price Prediction 2028
The XRP Ripple price prediction for 2028 is $4.96. Ripple has partnered with over 40 universities in 18 countries to fund research crucial to blockchain innovation. Innovations on Ripple are integral in creating an edge over the newer emerging technologies. The XRP price will range from $4.79 to $5.68. 
XRP Price Prediction 2029
The XRP Ripple price prediction for 2029 is $7.21. The ripple foundation is committed to creating a more equitable, sustainable, and inclusive economy. The foundation has made $150M in donations from 2018 in over 80 countries where Ripple NGO partners operate. The XRP price will range from $6.96 to $8.44.
XRP Price Prediction 2030
The XRP Ripple price prediction for 2030 is $10.67. XRP's future is bright, driven by mass adoption from many investors who bring considerable gain to the platform. The future of WEB 3 is coming, and the crypto world is set to earn extensive—the XRP price range from $10.39 to $12.32.
XRP Price Prediction 2031
The XRP Coin price prediction for 2031 is $15.36. The XRP prices will continue to rise past the decade, supported partly by the increasing utility of the Ripple crypto-asset. The rising XRP market cap will place it alongside top-tier cryptocurrencies in the market. The XRP price will range from $14.82 to $17.96.
XRP Price Predictions by Industry Influencers
Coins Kid analyzes XRP's recent price movements and provides a technical analysis.
XRP Price Prediction by Industry Experts 
According to Matthew Harry, a top official at DigitalX Asset Management, XRP could reach the $5 mark, provided it scales through its case with the SEC. He also added that Ripple XRP's future value would be considered speculative. 
The XRP token is worthless for anything other than speculation. The underlying technology is terrific, but the token itself does not currently have a use; it simply attracts speculators as it is cheap and an easily digestible value prop – none of which is born out in the token.

Matthew Henry
Carol Alexander, a University of Sussex finance professor, confidently predicts a market price of $2.50 for the near future if the token conquers the struggle with the SEC.
It is not like any other crypto. If it wins vs. SEC, it really will start to replace SWIFT.

Carol Alexander
Conclusion
Ripple is a private blockchain with the robustness of offering enterprise-grade solutions to big businesses. This advantage has earned Ripple big partners in the finance world, such as Bank of America and Sabb. Ripple enables processing transactions with same-day settlement and, therefore, is a good addition for businesses that have cross-border transactions.
XRP is far cheaper than most of the other cryptocurrencies in the overall crypto market at its current rate. This makes it accessible and easy to buy for many investors and suitable for mass adoption and informational purposes.
In terms of returns, can one say it is worth it? The next five to ten years' predictions do not position it as the best investment in the market. After all, it will only increase by 5x or 6x in the next five years in the best-case scenarios. But a value of less than a dollar doesn't look so bad, and the demand is good.
The benefits it seems to offer, such as the speed of transactions and low charges, would make it look like a good investment with more potential for institutional backing and developments soon.
If you're planning to buy or sell XRP or most cryptocurrencies, several independent cryptocurrency exchange platforms exist solely for that purpose. They include Bitstamp, Kraken, Gatehub, etc. But, it is important to do your own research and use wise investment decisions.
Buying on all these platforms is relatively easy and straightforward as they allow you to buy with USD, EUR, and even BTC. All you need is to have an account on the platforms, and you are good to go. You can link your credit or debit card. Wire transfer is usually available on these cryptocurrency exchanges too.
The forecasts for XRP vary widely depending on the analysis and period. However, most of them have two things in common – volatility and a moderately optimistic outlook.
The optimistic forecast will depend on the Ripple payment technology's increased adoption in almost all predictions. However, the volatility of the asset could stand as an albatross as it depends majorly on the outcome of the litigation between its parent crypto company and the financial regulator.
According to the market experts, a jolt of freshness is expected in the XRP space if Ripple scores a major victory in its lawsuit with the SEC. The price predictions are positive and in line with the possible positive outcome of the lawsuit.
Trading crypto is a high-risk venture, and the optimistic forecast does not necessarily reflect the future of Ripple. A bear market is likely to have a negative impact on the future value of Ripple.
Despite the hype provided by the XRP price predictions, it is important to conduct adequate research before investing in cryptocurrency. Only invest what you can afford to lose.
Disclaimer. The information provided is not trading advice. Cryptopolitan.com holds no liability for any investments made based on the information provided on this page. We strongly recommend independent research and/or consultation with a qualified professional before making any investment decisions.
Credit: Source link